Also see Frankie Boyle good read (below) on snooper's charters (for further reading on collected materials on this issue see our most recent posts here and here).
It might be advisable that before (or after; your choice) reading the first article – on how those who serve in government and intelligence services work in primacy for their big corporation masters (as stated in the past with assurances of future job offers, competitive 'golden handshake' with pensions etc, you can see all this in the article) – to find and watch a small tv series called 'The Rubicon': perfect depiction of this corrupt intermingled dark (criminal) world which feeds on insecurities, disorders, violence, bloodshed, chaos and misery.
Sir John Scarlett: From WMD to Wonga, how the former MI6 chief has cashed in
The former MI6 chief, whose 'evidence' helped take us to war in Iraq, has latterly proved to be better at making money than standing up to Tony Blair
James Cusick Political Correspondent
Wednesday 11 November 2015 00:23 BST
The Middle East desk at the Secret Intelligence Service MI6 is not a quiet place. Over three days in April last year, Israel suspended peace talks with the Palestinian Authority, 25 people were killed in a series of bombs blasts at a Shia rally in Baghdad, and Iraqi helicopters destroyed a convey of Isis fuel tankers inside Syria.
Such events were once the priority of the former SIS chief Sir John Scarlett. But over that 72-hour period, the retired spy boss was engaged in a different sort of business. As a paid senior adviser to US bank, Morgan Stanley, he was in Hawaii at the Ritz-Carlton hotel in Maui, along with 100 of the bank's top performing brokers.
At the Kapalua resort, Sir John was on a panel of security and intelligence experts offering insight into global affairs for those brokers willing to take time off from their golf and deep-sea fishing. Joining Sir John on the Morgan Stanley panel was General Michael Hayden, a former director of the CIA and the US National Security Agency.
General Hayden, among his other commercial and academic positions, is also a principal of the Chertoff Group, the security and risk management company founded by Michael Chertoff who served as Secretary of the Department of Homeland Security under President George W Bush.
The group's roster of former US intelligence officials has earned it the nickname of America's "shadow" homeland security agency. Chertoff describes its board of advisers as "truly exemplary individuals who bring outstanding qualifications in areas of intelligence, foreign policy, international trade and homeland security". Sir John is one of them.
When Sir John left MI6 in October 2009, Whitehall's Advisory Committee on Business Appointments (Acoba) – which monitors the revolving door between government and private sector appointments – did not block any of his job applications. Within four months, he had joined the advisory board of accountants PricewaterhouseCoopers. Two months on, the green light was given for the Morgan Stanley and Chertoff jobs.
A position on the board of Times Newspapers was approved inside a year. An advisory role for the Norwegian multinational oil company, Statoil, was given unconditional approval a few months later.
Despite the criticism he received over the compilation of Tony Blair's "dodgy dossier" on Saddam Hussein's WMD while he was chairman of the Joint Intelligence Committee (JIC), it seems Sir John's services are in high demand.
One former MI6 official, who knew Sir John for a large part of his 30-year spy career, said he was just one of many former intelligence chiefs making a killing from the booming private security industry. "After 9/11 there was an intelligence free-for-all in the United States," the official told The Independent. "The division between state and commercial security got shot to hell, blurred. Booz Allen Hamilton [where whistle-blower Edward Snowden worked], Chertoff, and other connected firms, now pull in billions in state contracts. And as their net and international influence spread, and large corporations place increasing faith in tailored intel, the British CVs of John Scarlett or John Sawers [MI6 chief from 2009-2014] or Mark Allen [a deputy chief at MI6], all look worth shelling out for."
In January this year, the Foreign Secretary, Philip Hammond, approved the application of Mr Sawers to join the board of BP as a non-executive director. Mr Hammond simply advised him: "You should not draw on privileged information available to you from your time in Crown Service."
Sir Richard Dearlove, head of SIS between 1999 and 2004, joined the global insurance company, American International Group (AIG), shortly after leaving the service, and has advised other large firms on "global intelligence".
The days of old-school spy chiefs retiring quietly with their pensions to run a homeless charity or a preservation trust appear long gone.
The Independent contacted Morgan Stanley, and other firms Sir John is, or was, connected with. Swiss Re, the global reinsurance company where Sir John is an adviser, described his function as "exploring emerging issues" and providing "strategic insights, advice and recommendations on the global economic, political, and regulatory environment".
PwC said he was no longer an adviser. All the firms would not discuss his remuneration. But the private company Sir John Scarlett ran with his wife, Gwenda Stilliard, called J & G Consulting Ltd, had cash assets of £89,573 in 2012. A year later the cash at bank total was £683,625.
And last week it emerged that over the past three years, Sir John shared £800,000 from another private consultancy company, SC Strategy, that he co-owned with the former independent reviewer of terrorism legislation, Lord Carlile. The firm described itself in accounts filed with Companies House as offering clients strategic advice on UK policy and regulation.
Lord Carlile said SC was a small "reasonably successfully" company that provided advice to international clients. However, their only identified client is Qatar's sovereign wealth fund. Of course, Sir John is not the only member of the British establishment to benefit from their links to the oil-rich Qataris. Tony Blair's £2.5m-a-year consultancy with the Wall Street bank, JP Morgan, saw him mediate a 2012 deal between the mining giant Glencore and the Qatari Prime Minister, Sheikh Hamad bin Jassim bin Jaber al-Thani. For a three-hour late night in a London hotel, Mr Blair is reported to have picked up a fee of $1m.
Qatar has also donated funds to Ms Blair's Foundation for Women. In emails recently released by Hillary Clinton, it was revealed she had lobbied Ms Clinton when she was US Secretary of State. In one email she wrote : "As you know I have good links to the Qataris."
When Sir John left the JIC in 2004, a year after the US-led invasion of Iraq, few in MI6 expected him to return to their fold. Mr Blair thought differently. John Scarlett was promoted to "C" – the chief of the Secret Intelligence Service. His appointment was seen by many as an expression of tacit thanks by the Prime Minister to the man who had stood by him throughout the crisis caused by the WMD expert David Kelly's suicide. He remained in the post for five years, until 2009, when his new career in the business world commenced.
Although there is no suggestion that any of these people have done anything illegal, transparency campaigners say that the "revolving door" between Whitehall, Westminster and the private sector needs addressing.
Robert Barrington, the executive director of Transparency International, the campaign group that monitors abuse of government rules, said : "Currently individuals in key positions only need the approval of Acoba, the appointments committee. And as there is a merger between the public and private sectors, the lines of compromise are far more blurred than they used to be. There is a hole in the current system. The rules, as they stand, are really not fit for purpose."
Next month, Sir John will be back again at a Ritz-Carlton, not in Hawaii but in Doha. Alongside Qatari government ministers and bankers, he will be a keynote speaker at the Euromoney conference. Individual speakers of "world renown" covering events of "substance and importance" are promised.
main link: From WMD to wonga, how former MI6 chief John Scarlett cashed in
and same story via daily mail  How Blair's head of MI6 cashed in after that dodgy dossier: Former spymaster has series of lucrative posts in the private sector that earn £1million a year
The snooper's charter: one misspelled Google search for 'bong-making' and you'll be in an orange jumpsuit
I know why Theresa May has that permanently appalled expression – she's seen my internet history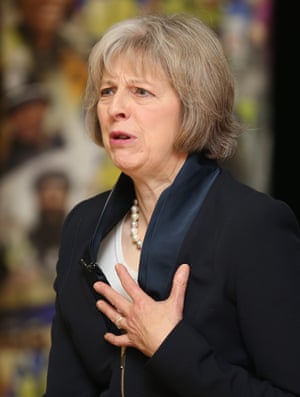 Theresa May, with the general air of a hawk that had a This Morning makeover, has launched the new investigatory powers bill. No more drunken Googling: all it takes is a misspelled search for "bong-making" and suddenly you'll be in an orange jumpsuit getting beaten with a pillowcase full of bibles. Also, pay attention when searching for a child's prom.
This law will create lots of new jobs, as the person charged with reading all our communications (who will see more unsolicited erections than customer services at Skype) will regularly feed their screaming face into a meatgrinder.
The government insists, as it tries to scrap the Freedom of Information Act, that only people who have something to hide should worry. People who run for public office will be afforded privacy, while our private lives will become public property. Having our privacy exposed is particularly crushing for the British – a nation for whom the phrase: "How are you?" really means: "Please say one word, then leave me alone." So why have they just accepted this? Well, for a lot of people it's the only hope that anyone will ever read their tweets.
The PR push for this bill's launch has shown how similar the legislative process has become to the lobbying one. In fact, it's not even lobbying, really, as most things that get lobbied for at least have some notional utility. This is more like phishing, asking us to sign up to something that looks helpful, but is actually a data breach.
Of course, the government has been reading our social media messages for 15 years. Imagine the celebrations at GCHQ when they see a young couple they used to watch sexting, then wanking on Skype, post their first kid's school uniform pics on Facebook. In its own way, it must be quite touching.
The UK government has always stored intelligence, so don't worry – they knew about Assad for years and didn't act; they know about Saudi Arabia's human rights abuses and do nothing; they knew about Hitler and didn't act. What makes you think that a Facebook post you're writing about a riot would … oh … where did you go?
One of the key areas of concern about the bill is the lack of any real judicial check. Theresa May can bypass judicial permission if surveillance is deemed "urgent" – like, if Belmarsh's kitchen rota has a gap for someone who can cook halal. Nonetheless, Andy Burnham was quick to offer his support.
Many of Labour's frontbench seem not to have been caught up in the joyous new Corbyn era, and look like people who have been forced by their work to go on some kind of awareness course. Currently, much of the Labour party's policy seems to be formulated by encouraging them to just go on camera and say how they feel. Burnham has since backtracked, telling May: "On closer inspection of the wording of the bill, it would seem that it does not deliver the strong safeguard that you appeared to be accepting."
Which translates as: he didn't read the bill very carefully because the government had told him it would have judicial safeguards and he believed them. Poor Andy. It's as if you can't even trust people who are trying to give a load of authoritarian powers to their secret police any more.
This bill will lead to every person of colour's worst fear: more concerned white people. Because white people will soon be the only ones who can Google the history of Islamophobia without ending up spending a decade watching children's TV at full volume in a variety of stress positions. Ideological crime will be prioritised while actual crime is ignored, and we'll adapt. Eventually, when you see a mugging, you'll just start WhatsApping emojis of bombs until you hear sirens.
We will acquiesce to the scanning of Facebook posts to fight terrorism, which has killed 56 people in the UK in 10 years, but will still regard the killing of two women a week by their partners as a private domestic matter. God knows what this whole shambles says about us all psychologically. May herself gives the impression that the only childhood affection she got was the time a horse mistook her knuckles for a corn cob. At least this bill has allowed me to decode her permanently appalled expression: she looks as if she's just seen my internet history.
I suppose that we need to consider what our internet history is. The legislation seems to view it as a list of actions, but it's not. It's a document that shows what we're thinking about. The government wants to know what we've been thinking about, and what could be more sinister than that? Perhaps we've got so involved in the false selves we project on social media that we've forgotten that our real selves, our private selves, are different, are worth saving.
We are starting to spend more time online and less being alive. Our faces feel odd when we take our masks off. We live in a culture built on debt, so we are encouraged to have no self control. Consumer culture needs us to be impulsive, while our political culture fears that we will ever develop discipline. A total breakdown of self-control is the perfect backdrop for this bill. We will welcome legislation that will finally replace our fathers. We're like Ted Bundy in his last days, leaving teeth-marks on his victims and driving to a state with the death penalty. Our lives are empty and bloated with perversion: we beg for intellectual death.
Soon our government will know everything we are thinking, and in that moment, we will stop thinking.