Teenager wearing hijab knocked unconscious demonstrates rise in hate crime in London
CCTV footage shows woman wearing a hijab attacked from behind; revealing the reality of what many Young Muslim women face today
Shocking images of a teenager wearing a hijab attacked in Plaistow in East London have been republished amid Scotland Yard statistics showing hate crime in the capital has almost doubled in the past year.
Hate crimes against Muslims soar in London
Government plans to make picketers give their names to police, carry a letter of authorisation and wear an armband (further deterioration of civil laws in UK and draconian measures)
Table of the highest paid Leicester City Council staff | Leicester Mercury : the single important observation here is that in a city deemed a model of "diversity and multicultural and equal opportunities' and all that BS over 95 per cent on the list are whites. Check out our old post with evidence here and here.
America's Oligarch Problem How the Super-Rich Threaten US Democracy
Help to Buy helps the rich: 1,750 couples earning £100,000 get Osborne's cheap loans (including 500 who ALREADY had a house)
Clegg was offered a pass on a rise in tuition fees by Osborne and apparently turned it down
And here is for all those still naive to their bones perfect representation of western or british "democratic" virtues of "rule of law" and [dual] "justice". Of course we are talking about the case Malcolm Rifkind former Foreign Secretary and a man intimately close to UK security services (and chair of it's apparent "Independent Committee" in Houses of Parliament) and Jack Straw, Lab MP (Bradford) again with past relations and intimate closeness to UK security services during his tenure as Foreign Secretary.
These two were filmed on tape accepting bribery (corruption, fraud etc) to lobby but apparently a committee to punish or not found them "not guilty" (Telegraph: MPs who 'cleared' Jack Straw and Sir Malcolm Rifkind reveal 'misgivings' – Telegraph and The proof that MPs cannot be allowed to police themselves ) and NOT ONLY are these two criminals let go but apparently plans are in place TO REWARD them with PEERAGE in the House of Lords (oleee): Straw and Rifkind tipped for the House of Lords after being cleared of breaking rules in cash-for-access sting
updated –
Sir Malcolm Rifkind helped hire head of parliamentary watchdog that cleared him over 'cash-for-access' allegations
And the usual rabid nepotism within UK governing bodies and institutions, at Met Office a senior (peer, again, misbehaving badly) scientist (Dame Julia Hugh-Slingo) creates a, as the Daily Mail puts it, 'plum' top role for her daughter straight out of University (with zero skills or experience): pays to be connected. Met Office created plum media job for daughter of its new £230,000-a-year science boss just months after she graduated  similar to BBC and their children internship (link: http://www.dailymail.co.uk/news/article-3137056/BBC-staff-broke-rules-traded-unpaid-internships-teenagers-leading-companies-help-children.html and on ITV http://metro.co.uk/2015/06/24/bbc-staff-caught-offering-work-experience-in-exchange-for-internships-for-their-kids-5262225/)
'Don't stand with Ahmed if you're not prepared to support all marginalised Muslim children'by Hanna Yusuf at The Independent
Excellent Steve Bell political cartoon take on MI5 and others calls for more surveillance powers (as if they needed to ask, they already it implement it, by asking they just want to "make it official as formally authorised")
Steve Bell on MI5's call for greater power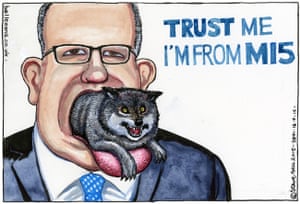 Our number one regret? Not saving up! Putting more money away tops list of 50 things Britons would do differently if they could live their lives again
Is YOUR house being targeted by gangs of burglars? The signs criminals use to alert each other to homes that are worth robbing – and those that aren't
msm cries 'nuts' when truth is said  Revealed: Labour's hard-line shadow chancellor raged against Britain's 'key' role in the global 'war machine' and hailed the recession as a 'real opportunity' for the left
Revealed: Transport bosses' secret geographically accurate Tube map showing the REAL distances between stations
The signs criminals use to alert each other to homes that are worth robbing | Daily Mail Online
Do you feel like a fraud? Seven ways to get over 'impostor syndrome'